Yamaha Silent Guitar SLG200NW (Natural)
SLG200NW offers real classical guitar experience with conventional classical guitar neck construction. Warm and rich plugged-in sound by the SRT Powered system, ebony fingerboard for tight and clear acoustic sound, gold baseplates on the tuning machines for the taste of high-end... Both sound and appearance tops the series.
Yamaha SRT Powered pickup system for great performance sound
Super-compact, with detachable frame for easy travel
2 1/16" (52mm) nut width
Ebony fingerboard
Headphone jack for ultra-quiet practicing
Onboard tuner
Durable gig bag included
SRT Powered is a new system designed to recreate the body resonance of an acoustic guitar in a bodiless guitar. Yamaha developed SRT Powered, collaborating with recording artists to create a system tailored to the unique properties of the new SLG body and modelled after the tones of a high-end Yamaha acoustic guitar captured using a carefully selected microphone in a professional recording studio environment. By actually reproducing the sound of an acoustic guitar—right down to its natural sustain and decay—Yamaha lets guitarists experience the genuine body resonance, body tone and ambience of an acoustic guitar.
SRT Powered sound can even be mixed with the sound from the instrument's piezo pickups, allowing guitarists to be even more flexible in their creative endeavors.
Because the SLG can virtually reproduce the sound of a guitar recorded with a microphone, players are free from complicated procedures involved in mic-ing up a guitar when recording at home or in other settings.
Playability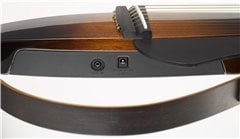 The slim body of the SLG gives these instruments superb playability, and allows players to switch to playing an electric guitar without any discomfort should the need arise.

Design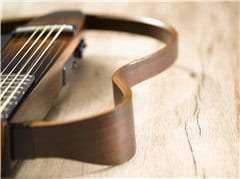 With the SLG, Yamaha set out to bring a modern feel to the classic contours of a conventional guitar. The distinctive design that emerged is the result of a collaborative effort between the project team and the Yamaha Design Laboratory, and combines traditional guitar lines with an innovative new form unlike that of any guitar before it.

Portability
The detachable top section of SLG's frame means that practicality and portability are way beyond that of a conventional guitar.
The luxury gigbag provided can be carried with ease and fits into an aircraft overhead compartment with room to spare. (Airline restrictions may apply.)