ESSEX Upright Piano EUP-123EK ES
CLASSIC STUDIO UPRIGHT
A nicely balanced upright with elegantly proportioned classic straight legs, the classic design of the EUP-123E, or Classic Studio Upright, makes it a great choice for even the most eclectic of homes.
ENCASEMENT
Cabinet Style
Classic Studio designed by STEINWAY & SONS
Finish
Satin Ebony
Hardware
Brass
No matter your level of skill or your musical goals, STEINWAY–DESIGNED pianos offers an instrument to match to your needs. From our flagship STEINWAY MODEL D — the best piano in the world, to the BOSTON Performance Edition for the serious student, to the ESSEX studio upright — STEINWAY & SONS has an instrument for everyone.
ESSEX Upright Piano
Designed by STEINWAY & SONS in collaboration with renowned furniture designer William Faber — the ESSEX upright has been created in the spirit of the STEINWAY heritage as a tribute to the idea that beautiful piano styles and finishes can and should be possible in every price range. With elegant traditional styling and museum-quality finishes, ESSEX will be a stunning addition to your home. The instrument is available in an array of models, sizes, and veneers to fit every décor and lifestyle.
THE STEINWAY promise
When you purchase a ESSEX, you may trade in the instrument within ten years of the date of purchase to receive 100% of the original purchase price in trade toward a new STEINWAY grand.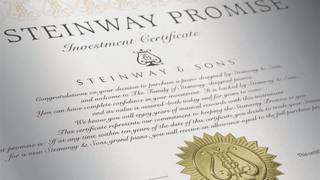 EUP-123EK ES
DIMENSIONS
Height: 123 cm (48½"")
Width: 151 cm – 152 cm (59½"" – 59¾"")
Depth: 67 cm (26½"")
Net Weight: 255 kg (561 lb)
COLOR
Steinway Teacher & Educational Partner Program (STEP) The Steinway Teacher & Educational Partner Program is specifically designed for piano instructors in an effort to provide incomparable teaching experience for teachers while developing and strengthening our relationship.
To learn more: