Yamaha YSP-2700 Digital Sound Projector + SPM-K20掛牆架 + Austrian Audio Hi-X15耳機套裝Bundle
PRODUCT CODE: WS21092901
此套裝內容包括 (原價總值HK$4,888):
- Yamaha YSP-2700 Digital Sound Projector連無線超低音喇叭 乙套 (原價HK$7,999)
- Yamaha SPM-K20掛牆架 乙隻 (原價HK$690)
- Austrian Audio Hi-X15專業罩耳式耳機 乙隻 (原價HK$899)

This bundle includes (Valued at HK$4,888):
- Yamaha YSP-2700 Digital Sound Projector with subwoofer x 1 set (Original Price: HK$7,999)
- Yamaha SPM-K20 Wall Mount Bracket x 1 pc (Original Price: HK$690)
- Austrian Audio Hi-X15 Professional Over-Ear Headphones x 1 pc (Original Price: HK$899)
Yamaha YSP-2700 Digital 

Sound Projector with Subwoofer
獨家數位環繞投射技術呈現真實的7.1聲道環繞音
YSP-2700 中的揚聲器單體透過數位音響投射器中的信號處理器並讓音束從房間的牆壁反射,創造出真實由左邊以及右邊甚至是後方來的環繞音。聆聽區域廣闊讓你可以享受極為震撼、自然的聲音與身歷其境的效果。
16個揚聲器單體實現壓倒性的真實感
YSP-2700的前置單體配有16個2.8cm的高音質陣列揚聲器,創造出音束。透過優化陣列揚聲器的佈局,提升了音束的反射特性,最大化其聲音品質。
高品質元件設計,美與優雅的誕生
中置單元是由鋁所製成的,帶有優異的堅固剛性。
頂部為鋁質上蓋可避免不必要的振動,帶有髮絲紋的表面,呈現出優雅的外型設計。超低音則呈現簡單設計,融合家中的裝潢擺設。
外觀精簡,不阻擋電視
高度僅51mm,尺寸精簡的中置單元可擺放於電視前方而不擋住電視螢幕。高檔而簡約的設計與鋁製外殼可融入家中設計。
無線超低音提供彈性擺放
此超低音減少了接線的繁瑣,這會讓安裝與擺放更加快速簡便。
這是一個能傳達出大迫力、高品質低音卻又方便的超重低音。
MusicCast
MusicCast是新的網路音訊革命技術,可以單獨或一起使用。只需要透過一個簡單易用的App就能控制。依照你的需求單獨會搭配soundbar、無線喇叭、AV接收擴大機或HiFi裝置擴大你的MusicCast系統。來自Yamaha全新的MusicCast系統,適合所有人、所有地方。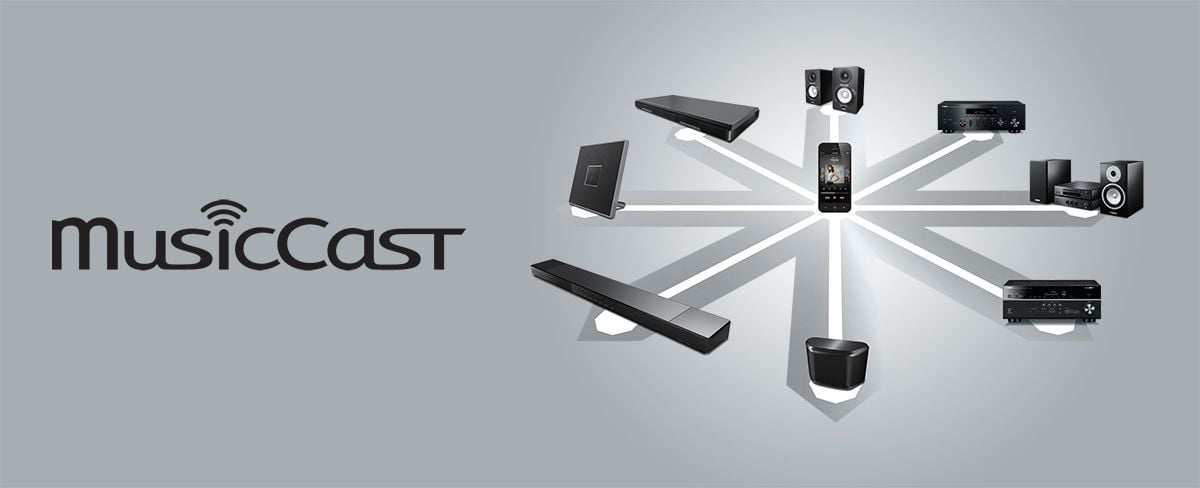 享受所有的音訊來源
MusicCast使用高效能無線網路傳送音訊,他可以從你的智慧型手機、電腦或NAS串流音樂至家中其他MusicCast裝置,還可以分享連接至 YSP-2700例如電視或藍光播放器的外部裝置。透過藍牙連線的智慧型手機或平板電腦也可以透過MusicCast串流播放音樂至多個空間。
免費 App 提供簡易操作
MusicCast Controller app 可以讓你操作單一或多個MusicCast產品,此app搭載美觀設計的介面,讓你可以依照自己的品味客製化介面。簡單的點擊,便可以操作你想要聽的音樂。此外,使用YSP-2700音束設定或是環繞音調整,你可以進行細節聲音的操作。
此app讓你可以在掌心中控制你的音樂聆聽體驗。此App可以在App商店或是Google Play免費下載。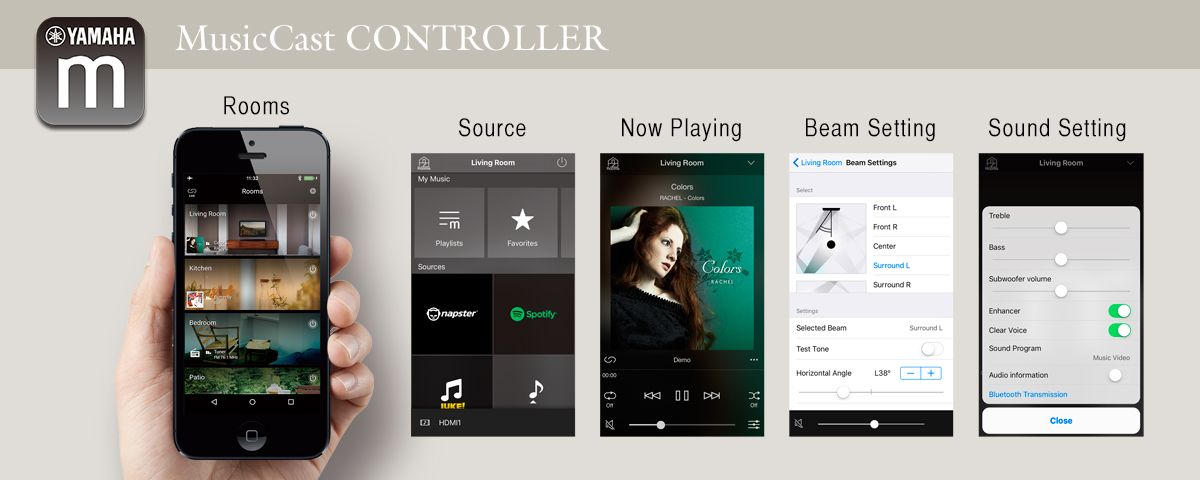 專業級的聲學校正
Yamaha 的 IntelliBeam™ 室內聲學校正系統自動偵測你家中的揚聲器設定,設定最佳聆聽環境。使用者只須跟著螢幕上的指示,按下幾個簡單的按鈕,系統會偵測室內的聲學特性例如尺寸、形狀以及牆壁的材質;然後調整音束角度、距離、音量以及其他音頻參數,所產生的結果是為了任何尺寸、形狀的房間調配成的符合其音場的精確聲音。
在你的客廳重現音樂廳、表演場所以及電影院的氛圍
Yamaha CINEMA DSP 細緻卓越的科技,開創出讓聆聽者在任一空間環境均能有身歷其境的音境享受。 CINEMA DSP 音境模式取自世界各表演廳實地錄音之音場數值,參數透過細緻卓越的數位處理技術而設計。Yamaha除為全球首創並為提供超寫真環繞經驗之領先者。YSP-2700搭載10種不同的音境模式。
從Bluetooth®以及AirPlay®串流音樂
你可以由你的智慧型手機透過無線Bluetooth®或AirPlay®連結傳送音樂。
你也可以由音樂App,電台App或是像YouTube™等的視訊託管服務中傳送音樂。
方便音樂串流的藍牙音訊輸出
YSP-2700具備最新最方便的藍牙技術。你可以透過YSP-2700傳送音樂到藍牙耳機獨自聆聽,或者到藍牙喇叭上播放。
壓縮音樂增強裝置
音樂壓縮增強器可以恢復音樂在壓縮過程中所減損的頻率響應,讓音樂聽起來如同原本該有的音質。
它適用於任何壓縮內容,帶給你生動、有生命力的聲音品質。此功能可以根據輸入來源透過遙控器控制關閉。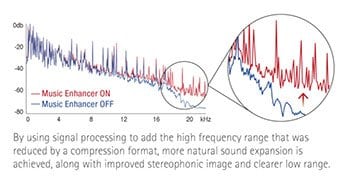 HD Audio 解碼
YSP-2700 可解碼 HD Audio 信號,確保你聽見由藍光播放機或是其他數位音訊來源播放出的最高品質的聲音。
HDMI® 端子支援4K Ultra HD
YSP-2700 配備三個 HDMI® 輸入端子和一個 HDMI 輸出端子,並支援 4K/60p 影像訊號通道。
與 HDCP2.3 數位版權保護相容。
提供廣大的擴充性,讓您未來可以長久使用。
- 以Digital Sound Projector技術配合16組array喇叭營造真‧7.1聲道效果
- 透過MusicCast將音樂串流至不同房間
- 無線連接超低音喇叭,帶來豐富的低頻表現
- IntelliBeam可為每個房間作自動音場調校
- 提供10組CINEMA DSP音場設定
- 支援24Bit 192kHz FLAC/WAV/AIFF
- 提供可對應4K60p直通及HDCP2.2的HDMI (3入1出)
- 可連接Wi-Fi、藍牙、AirPlay、Spotify
- 可利用藍牙來串流其他藍牙裝置
- 透過自家的手機應用程式如MusicCast CONTROLLER 可輕易操作
- 改善壓縮音樂音質
- Clear Voice使人聲對白更清晰
- 支援HDMI ARC(音訊回傳通道)
規格:
- 輸出功率:107W
- 單元:2.8cm x16 Beam、14cm超低音喇叭單元
- 輸入端子:HDMI x3、光纖 x1、同軸 x1、3.5mm x1
- 輸出端子:HDMI x1、超低音喇叭x1
- 音效格式:Dolby True HD、Dolby Digital Plus、Dolby Digital、Dolby Digital EX、
                    Dolby Pro Logic II、Dolby Pro Logic IIx、DTS-HD Master Audio、
                    DTS-HD High Resolution、 DTS、DTS-Neo 6、DTS-ES、DTS 96/24
- 尺寸 (W x H x D): (中置) 944 x 51 x 154mm、 (超低音喇叭) 295 x 297 x 307mm
- 重量: (中置) 4kg、(超低音喇叭) 9.1kg
Yamaha SPM-K20 Wall Mount Bracket
專為Yamaha YSP-2700 Digital Sound Projector設計研發的掛牆架。
規格:
- 尺寸 (W x H x D): 500 x 54 x 125mm
- 重量: 1.4kg
Austrian Audio Hi-X15 專業罩耳式耳機
提供2年保養 2 YEARS WARRANTY
Outstanding Value
The Hi-X15 Headphones joins our award-winning line-up of pro-level headphones, coming in at an unbeatable price while delivering the acclaimed crystal clear and precise Austrian Audio High Excursion listening experience for recordists and musicians.
The outstanding comfort and exceptional sound of the Hi-X15 headphones make them the perfect companion for studio recording sessions, or when you're practicing your instrument at home.
Key Features
High Excursion Driver Technology
Outstanding low THD @ low frequencies
Detachable Cable
1.4m. For replaceability, compact portability and safety from damage
Furnished with 3.5mm (1/8 inch) to 6.3mm (1/4 inch) adapter

Pro or on-the-go
All metal hinges for maximum durability
Ensuring maximum durability and stability
Foldable construction
For maximum portability and easy storage
Soft slow retention memory foam earpads

Providing greatest comfort during long sessions
High Excursion Technology
Hi-X Professional Headphones
Hi-Xcursion (High Excursion) technology is the key to the astonishing sound of our Hi-X15 headphones.
All Austrian Audio Hi-X headphones feature a 44 mm driver and a ring magnet system. This design allows for improved airflow and includes the strongest magnetic field in its class.
The ring magnet, combined with a copper-clad aluminum voice coil, reduces the weight of the membrane and the voice coil connected to it, allowing the membrane to move or change direction faster, providing a more responsive impulse reaction.
Our science, measurements, and listening tests have shown that 44mm is the optimum size for this design. It ensures professional performance in the Hi-X, moves a lot of air, and eliminates 'wobbling' of the diaphragm. This is akin to damping of the driver mass, which is where our membrane really shows results: it is ultra-stiff while still reducing unwanted resonance.
Specification: 

Frequency range: 12 Hz – 24 kHz
Sensitivity: 113 dBspl/V
Impedance: 25 Ω
Input Power: 150 mW
Cable (detachable): 1.4 m
Connector: 3.5mm (1/8")
Dimensions: 250 x 170 x 80 mm
Weight (without cable): 255g
條款與細則:
1. 優惠套裝數量有限,售完即止。
2. 優惠期由即日起至2022年1月2日。
3. 此優惠不可與其他額外折扣優惠同時使用。
4. 如有任何爭議,通利琴行有限公司保留最終決定權。

Terms and conditions:
1. Offer valid while stocks last.
2. Promotion period is from now on until 2 Jan 2022.
3. This promotion cannot be used in conjunction with any other offers.
4. In case of any dispute, Tom Lee Music Co., Ltd. reserves the right of final decision.