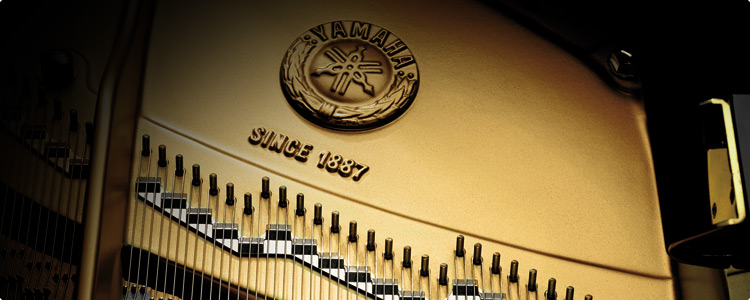 Explore Your Options
Yamaha has a piano or keyboard for everyone - from beginners to performers, from Rock to Rachmaninov
With over a century's worth of experience manufacturing world-class acoustic pianos and over a half-century in Hi-Fi audio and electronic instruments, only Yamaha can offer such a range of Acoustic Pianos, Pro Stage Pianos and Industry-Standard Synthesizer Workstations to consumer Portable Keyboards and Digital Pianos. Only Yamaha can offer an instrument for musicians at every level.
Yamaha Pianos
Traditional Performance
Building Pianos For Over a Century
Unparalleled in their beauty and musical range, Yamaha's Acoustic Pianos are the ultimate expression of the piano maker's art.
The culmination of over 100 years of craftsmanship and design, every stage of the Yamaha piano manufacturing process is predicated on time tested techniques honed over the years by Yamaha craftsmen. Following the best practice and traditions of fine musical instrument building, the eyes, ears and hands of each craftsman, along with their passion for the piano, make it possible for new instruments and sounds to be born each day at our factories.
What Hand-Craftsmanship Does Yamaha Use In Its Acoustic Pianos?
Action
Assembling the action mechanisms of a piano requires highly skilled technicians and specialized techniques. A mere one-millimeter deviation in strike-point position can adversely affect the sound. Unlike other manufacturers, Yamaha produces each and every one of the 5,500 components in-house using its proprietary precision machinery, resulting in actions that are extremely precise and faithful to design specifications. Also, to withstand many years of use, action mechanisms must be made highly resistant to continuous impact as well as to the effects of changes in temperature and humidity. Yamaha takes advantage of its proprietary technology for drying and gluing maple wood, the main material of an action mechanism, to produce piano actions that are marked by precision and durability. By thoroughly studying extensive feedback from pianists and music experts around the world, Yamaha makes constant efforts to produce action mechanisms that achieve the response pianists seek.
Soundboard
Yamaha has developed proprietary methods for soundboard production, ranging from the selection and drying of the raw spruce to the gluing of the panels. Knowing that soundboards play a vital role in determining sound quality, Yamaha handles every aspect of their production in-house??om the procurement of the finest grade spruce through the final finishing. With Yamaha proprietary drying technology, moisture content can be evenly reduced from every part of the wood. This method for uniform drying not only enables Yamaha soundboards to produce high-quality sound, but also makes them highly resistant to warping and twisting for superb durability. As a result, Yamaha pianos can retain their characteristic tone for many years to come. The cumulative knowledge of Yamaha enables us to create soundboards that are not only superb in resonance, but also aesthetically appealing with each panel neatly aligned by color and grain.
Frame
Yamaha is one of the very few piano manufacturers in the world that produces all of its own frames in-house using one of two methods: vacuum process casting and traditional sand casting. The frames for many of the Yamaha upright pianos and some of its grand pianos are produced using an advanced casting technology called V-Pro??cuum Shield Mold Process?? advanced casting method that creates a mold from dry sand held in place by plastic film and a vacuum. Yamaha was the first in the world to incorporate this process into piano frame production. Yamaha uses traditional sand casting to make the frames for its high-end uprights and grand pianos, such as the CFX concert grand. Frames produced via traditional sand casting contribute to a deep, rich piano sound. The Yamaha frames are also designed to be durable, resistant to the effects of changes in temperature and humidity, and are capable of supporting tremendous string tension in concert with the back posts.
Meet the CFX Pianos
With the CFX, Yamaha has moved to center stage. The flagship of the CF Series, the CFX full concert grand piano is the pinnacle of Yamaha's tradition of piano crafting. Beautifully hand-crafted, featuring an exquisite tone across the entire dynamic range, the CFX has the power to project its sound to the furthest reaches of any concert hall. As the crowning glory of the Yamaha line, today's CFX concert grand incorporates numerous refinements in performance, appearance and safety, elevating this revered instrument to an even higher standard of excellence.
Key Features
Handcrafted in the Yamaha Concert Grand Factory with more than a century of experience in grand piano production.
The vertically integrated production guarantees full control over each component of the piano.
Special crown making enables wide-ranging vibrations that create rich and highly resonating sounds unifying ?謜委auty and Power??
Premium Yamaha designed hammers are produced from the world's highest-class felt under the most stringent quality control to retain their shape and superb elasticity even after thousands of impacts.
The tone collector system connects the radiating back post on one end with the cast iron frame and permits it to smoothly transmit soundboard vibrations throughout the entire piano.
Dovetail joints create an extremely strong connection between the inner rim and the back posts.
Duplex scaling achieves optimal overtone structures.
The properties of the hand molded CF series frame results in a redefined tone.
Hand-made solid copper-wound bass strings enable a richly resonating and clear bass tone.
Extremely wear resistant Ivorite? keytops have the characteristics and feel of natural ivory.
Black keys are capped with real ebony for a perfect feel and touch.
Specifically designed pinblock made of bubinga and maple for ideal tunability and tuning stability.
Soft-Close? fallboard.
Heavy duty double-wheeled solid brass casters with locks.
Seasoned for destination.
Specifications
Length : 275cm (9')
Width : 160cm (63")
Height : 103cm (40 1/2")
Weight : 1082lbs