ESSEX Upright Piano EUP116FF Brown Cherry Satin Lustre
FORMAL FRENCH UPRIGHT
Grace and flair perfectly describe the Formal French Upright (EUP-116FF), which is available in an expressive open rack design that features graceful curves and top center hand-carved ornamentation.
ENCASEMENT
Furniture
Classic Studio Cases Designed by Steinway & Sons. Furniture Cases designed by William Faber.
Finish
Satin Luster: Brown Cherry
Hardware
Brass
No matter your level of skill or your musical goals, STEINWAY–DESIGNED pianos offers an instrument to match to your needs. From our flagship STEINWAY MODEL D — the best piano in the world, to the BOSTON Performance Edition for the serious student, to the ESSEX studio upright — STEINWAY & SONS has an instrument for everyone.
ESSEX Upright Piano
Designed by STEINWAY & SONS in collaboration with renowned furniture designer William Faber — the ESSEX upright has been created in the spirit of the STEINWAY heritage as a tribute to the idea that beautiful piano styles and finishes can and should be possible in every price range. With elegant traditional styling and museum-quality finishes, ESSEX will be a stunning addition to your home. The instrument is available in an array of models, sizes, and veneers to fit every décor and lifestyle.
THE STEINWAY
promise
When you purchase a ESSEX, you may trade in the instrument within ten years of the date of purchase to receive 100% of the original purchase price in trade toward a new STEINWAY grand.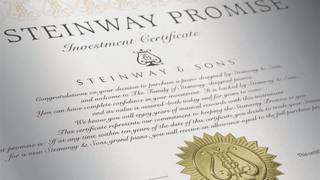 DIMENSIONS
Height: 116 – 118 cm (45½" – 46¼")
Width: 149 cm – 154 cm (58¾" – 60¾")
Depth: 64 – 67 cm (25¼" – 26½")
Net Weight: 236 – 242 kg (519 – 528 lb)