ESSEX Grand Piano EGP-155F FRENCH PROVINCIAL
French Provincial furniture style
Our smallest grand piano, the EGP-155F, is not small when it comes to musical presence, thanks to STEINWAY–designed features — in an elegant French provincial style — to maximize the sound and tone of this instrument.
ENCASEMENT
Cabinet Style
French Provincial furniture case designed by William Faber.
Finish
Satin: Brown Cherry
Hardware
Brass
No matter your level of skill or your musical goals, STEINWAY–DESIGNED pianos offers an instrument to match to your needs. From our flagship STEINWAY MODEL D — the best piano in the world, to the BOSTON Performance Edition for the serious student, to the ESSEX studio upright — STEINWAY & SONS has an instrument for everyone.
ESSEX Grand Piano
""Designed by Steinway & Sons"" and in cooperation with renowned furniture designer William Faber, Steinway & Sons has produced outstanding upright and grand pianos in various styles and veneers at reasonable prices. Through their elegant design and the various versions available, these instruments represent an enrichment of your home.
THE STEINWAY promise
When you purchase a ESSEX, you may trade in the instrument within ten years of the date of purchase to receive 100% of the original purchase price in trade toward a new STEINWAY grand.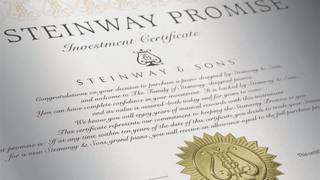 EGP-155F
DIMENSIONS
Height: 100 cm (39¼"")
Length: 155 cm (5' 1"")
Width: 151 cm (59¼"")
Net Weight: 289 kg (636 lb)