The STEINWAY SPIRIO|r is the world's finest high resolution player piano capable of live performance capture and playback. A revolutionary blend of artistry, craftsmanship, and technology, SPIRIO|r provides powerful new tools of expression and new ways to access, share and experience performance — enriching connection and intimacy.
SPIRIO|r video tour
Press play to learn more about SPIRIO|r
STEINWAY | quality
SPIRIO|r stores and plays music and videos directly from the instrument, with immediate response and uninterrupted playback. SPIRIO|r captures the most nuanced musical
passages, precisely reproducing the loudest, softest and fastest notes.
craft & SCIENCE
First and foremost, SPIRIO|r can be played like other STEINWAY, the instrument artists have chosen for over 165 years for its board palette, warmth and depth of tone, powerful resonance, and unmatched touch response.
Much like the megapixel revolution of the digital camera, SPIRIO|r offers exclusive high-resolution recording, preserving all the music, every nuanced dynamic level infinitesimal gradations of hammer velocity, and every shade of resonance from proportional pedaling – now at your fingertips.
The artisans at STEINWAY & SONS seamlessly install SPIRIO|r technology at the time manufacture, ensuring no alteration in the musical performance nor compromise in the instrument's beauty.
high-resolution RECORDING
SPIRIO|r permits users to record and listen to the performance in stunning state-of-the-art high resolution – with all the nuance, power, and passion on display.
Simple, intuitive controls offer the ability to save and share user-created recordings in multiple file formats"

world class MUSIC LIBRARY
The thousands of performances from the current STEINWAY artists as well as SPIRIO SYNC videos are available at the touch of a button on the included iPad. Every month the library expands, automatically updated from the Cloud. In addition to today's greatest musicians, historic performance by STEINWAY IMMORTALS are available, including Duke Ellington, Glenn Gould, Arthur Rubinstein, Art Tatum and many more.

Virtual Demonstration
GRAND VALSE BRILLANTE, OP.18
Composer: Chopin, Frédéric
Performer: Lang Lang
ALADDIN - WHOLE NEW WORLD


Composer: Mulligan, Simon Performer: Menken, Alan
high resolution EDITING
Native to the SPIRIO app, the SPIRIO editor provides the world's only advanced iPad-based high resolution editing capabilities to SPIRIO files, allowing users to edit every nuance of their SPIRIO recordings.
'Buying a piano does not have to mean waiting for a pianist to play it at home. It's a major leap, a milestone — with superb craftsmanship.'

— LANG LANG

STEINWAY ARTIST & STEINWAY SPIRIO AMBASSADOR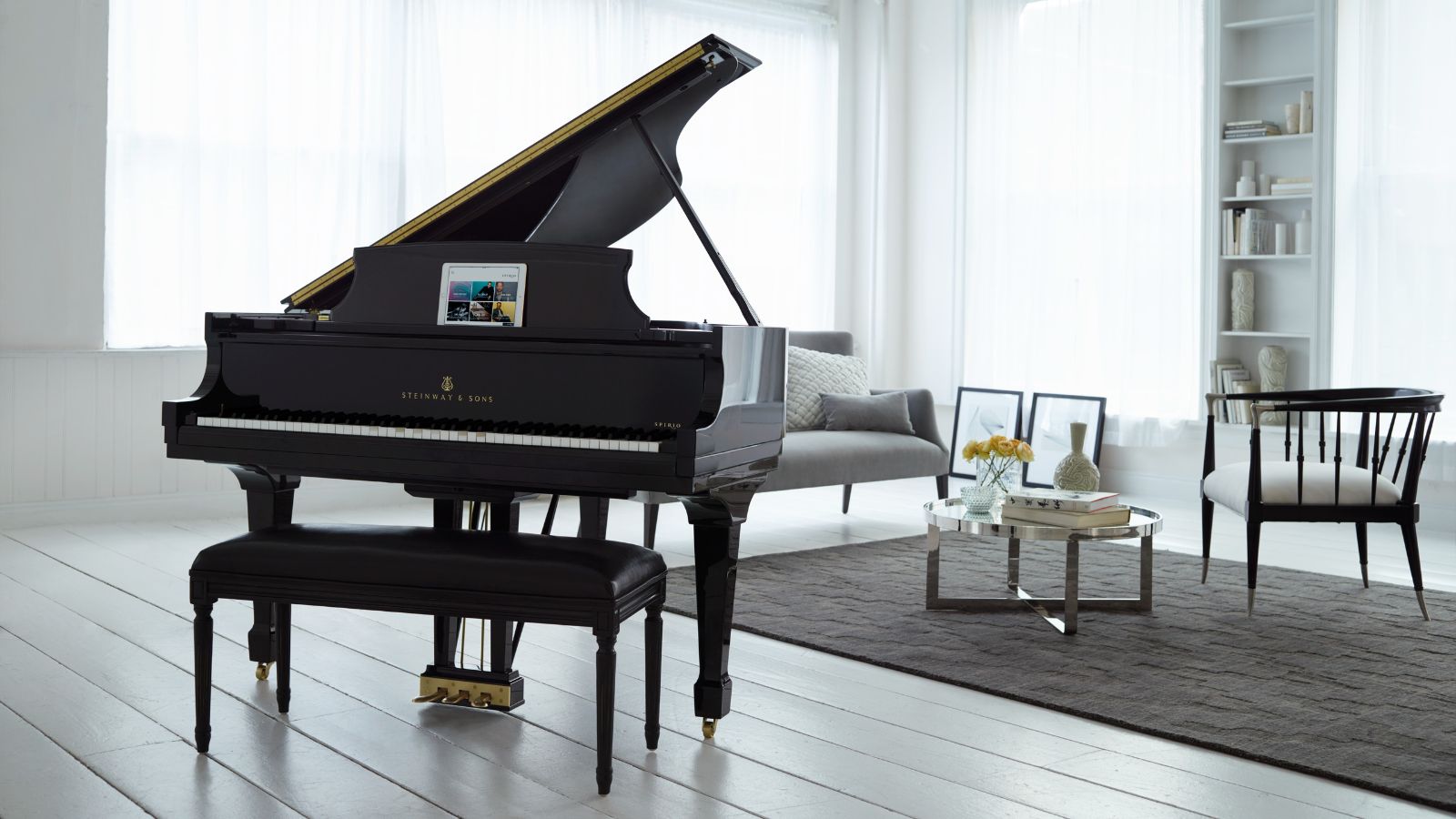 Product information
B-211
Dimension:
Length: 211 cm
Width: 148 cm
Weight: 345 kg
As a Model B, this SPIRIO|r is a magnificent 6′ 11″ (211 cm) grand, often referred to as the "perfect piano." It's a wonderfully balanced and versatile instrument that does extremely well in intimate settings, teaching studios, and mid-sized venues.
Complimentary iPad Pro® included.