TRADITIONAL K-132
Introduced in 1903, this piano features a larger soundboard than many grands, for a more resonant voice. The choice for professional players seeking an upright instrument — and perfect for all sizes of homes and apartments.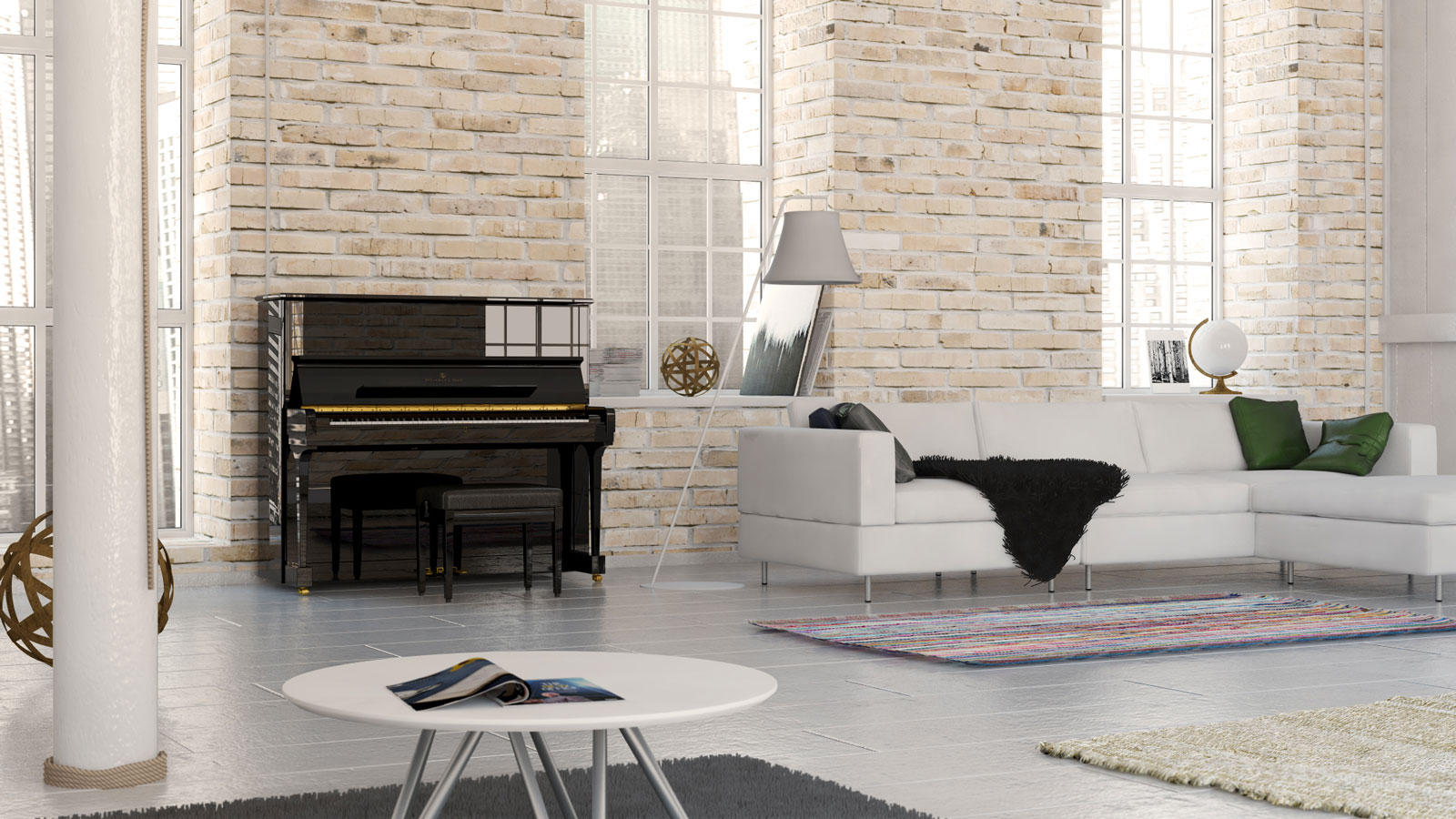 STEINWAY'S NEW UPRIGHT ACTION
Steinway is pleased to introduce our new patented action for uprights. The action on a grand piano can easily produce staccato repetition and repeated chords, and repeated chords can be played consistently and evenly. However, on a traditional upright piano action, the articulation of repeated notes is more difficult to achieve, as action parts move at dissimilar speeds. The hammer lags behind the rest of the action when the key is released. But with Steinway's new patented action for uprights, staccato repetition on a Steinway upright now feels as close as possible to a Steinway grand. The patented technology reduces the gap below the hammer. The action components operate smoothly, producing a more accurate keystroke.
STEINWAY DOLCE SOFT PEDAL
The soft pedal, or left pedal, on a traditional upright piano rotates the hammer assembly toward the strings — reducing their travel distance, which results in a lower volume and softer tone. Since only the hammers are raised, a gap in the action is introduced, resulting in the feeling of lost motion when a key is depressed. Steinway's new patented Dolce soft pedals raise hammers closer to the strings and move the lower action components and keys in tandem, preventing lost-motion gap. When the Dolce pedals are depressed, hammers are lifted, and Steinway's new patented lifting rail raises both the keys and lower action components. This produces a shorter key stroke with more sensitive control of the pianissimo dynamic range, resulting in a similar feeling to the una corda "shift" pedal on a Steinway grand. The left Dolce pedal allows you to play at piano dynamics, while the middle Mezzo Dolce pedal offers the most pianissimo dynamics, and can be locked in position for playing in environments where quiet is required. /p>
Steinway Dolce Pedal is introduced by Mr. Jochen Riemer, a piano technician who has been worked in Steinway & Sons for more than 40 years.
"I love how the Steinway responds to a variety of attacks from the supple caress to the rambunctious pound. Steinway's flexibility keeps me stretching my boundaries further and further."
JASON MORAN
STEINWAY ARTIST

Product information
K-132
Dimensions:
Height: 132 cm
Width: 152.5 cm
Depth: 68 cm
Weight: 295 kg
Balanced touch, a broad sound spectrum and rich volume combine to deliver uncompromising musical enjoyment.