xtended Control for TimeLine, BigSky, and Mobius.
Not only does MultiSwitch give you full control over TimeLine's Looper in a simple, compact format, it also unlocks three additional looping features: Reverse, Half Speed, and Undo/Redo. Use MultiSwitch to control your TimeLine Looper in two different ways.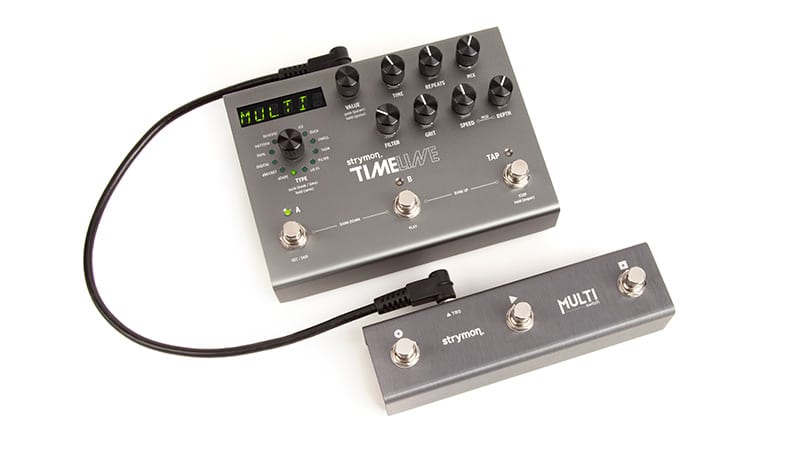 MultiSwitch allows instant access to TimeLine's Record/Overdub, Play, and Stop functions without holding the TAP switch to enter Looper Mode. Easily access looping features while retaining footswitch control over your delay sounds.

Hold TimeLine's TAP switch to enter looper mode, and MultiSwitch now gives you instant access to Reverse, Half Speed, and Undo/Redo. Gain access to a versatile, 6-button looper that is excellent for live looping and experimentation.
Bank, Preset, and Tap Modes
MultiSwitch provides new ways to explore presets and set tempos on your TimeLine, Mobius, and BigSky
TimeLine, BigSky, and Mobius
MultiSwitch gives you a new means of exploring preset banks. Use the left switch to move down a bank, right switch to move up a bank, and middle switch to cycle through your presets within the current bank. A great way to explore all of your presets.
TimeLine, BigSky, and Mobius
MultiSwitch to recall the perfect preset on your TimeLine, BigSky, or Mobius. Easily scroll through saved presets using the left and right switches, and engage/bypass the preset you have selected with the middle switch.
TimeLine, BigSky, and Mobius
MultiSwitch to scroll through your saved presets and control your tap tempo all at once. Perfect for TimeLine and Mobius – use the left switch to scroll down through your saved presets, the right switch to scroll up, and the middle switch to tap in the perfect delay tempo or modulation speed.
Looping with TimeLine and Multiswitch
Strymon noisemaker and designer Ethan Tufts takes you on a MultiSwitch looping tour.
How to set up MultiSwitch / Guitar Looping Examples
Reverse Looping Example / Vintage Keyboard Looping Example
Using TimeLine looper with vocals