Wonderful sound at reasonable cost
Popular type handbell using resonance fork. The unique hammer mechanism and the use of high-grade aluminum provide a wonderful sound that is soft and heartwarming. Simple and delicate tone chimes are widely used for performance lovers, school education, nursing homes, various circles, etc.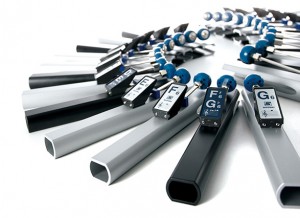 HB-250
It is a set of 25 notes with 2 octaves (G4 - G6) at the center among 4 octaves of tonechime whole range. You can play many songs from the introduction of the tonechime to the beginner's class and the intermediate level.
Range: G4 - G6
Materials: Aluminim chrome 
Size: 38 x 13.5 x 67.5cm
Weight: 11.4kg
Accessories: case