Yamaha SLG200NTBS Nylon String Silent Guitar (Tobacco Brown Sunburst) 靜音木結他
PRODUCT CODE: 4957812589024
Perfect for apartment dwellers, the Yamaha SLG200 silent guitar lets you practice your licks at any time of the day or night without disturbing the neighbors. A slim, compact body gives this instrument the feel and handling of a traditional electric guitar, while the SRT-powered outlet lets you hook up your headphones to enjoy great sound quality in complete privacy. Featuring a collapsible design, the lightweight, open-body SLG200 is easy to carry on an airplane or bus by packing it in the included gig bag when you head out on tour. Great for both acoustic and electric styles, this guitar delivers a clean, pure tone and a variety of versatile sound effects.
Features
Authentic plugged-in sound by SRT Powered
Super-compact, collapsible construction
Ultra-quiet performance
Unique, striking looks
Slim body like an electric guitar
Variety of functions which make players enjoy without becoming bored
Playability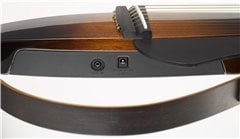 The slim body of the SLG gives these instruments superb playability, and allows players to switch to playing an electric guitar without any discomfort should the need arise.

Design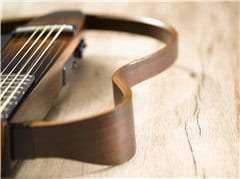 With the SLG, Yamaha set out to bring a modern feel to the classic contours of a conventional guitar. The distinctive design that emerged is the result of a collaborative effort between the project team and the Yamaha Design Laboratory, and combines traditional guitar lines with an innovative new form unlike that of any guitar before it.

Portability
The detachable top section of SLG's frame means that practicality and portability are way beyond that of a conventional guitar.
The luxury gigbag provided can be carried with ease and fits into an aircraft overhead compartment with room to spare. (Airline restrictions may apply.)