The Most Professional Student Oboes Ever Made
Our Intermediate models feature a design based upon our Custom models, and are produced with the same painstaking care. Like our top models, they also receive a high level of hand crafting, and the same experienced artisans oversee every step in their production. These oboes feature surprisingly accurate intonation and are comfortable and responsive to play. Their tone characteristics feature a rich spectrum of colors permitting the most subtle musical expression. And the keys have been carefully designed for ergonomic comfort as well as a balanced playablity.
Key Design

The ergonomic key design is based upon the Custom series for comfortable performance.
Durable Mechanisms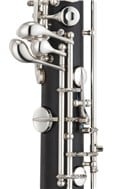 Designed to be durable and maintenance-free, these oboes feature hinge rods rather than pivot screws on the low C and C# keys.
Thumb-plate Key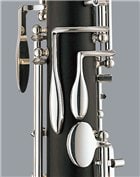 A thumb-plate key is available by special order.
YOB431 specifications
Key of C
Key System: Simplified Conservatoire
Bore Style: European
Octave Keys: Semi-automatic
Body Material: Grenadilla
Key Material: Nickel Silver
Plating: Silver
Trill Keys: C#-D#, F#-G#, Ab-Bb, A#-B, B-C#, Left C-D, Right C-D
Auxiliary Keys: 3rd octave key, Left-hand F key, Fork F resonance key
Pad: Cork and leather
Included Accessories: Yamaha Oboe Case


< Lead-Free Solder >
Yamaha products are made using lead-free solder. After years of study, Yamaha has discovered a new solder which is not only better for the environment but actually adds harmonic breadth to the sound. new refinements include point key arms contributing to elegant visual appeal.